How Choices Meets Standards
Choices empowers your students to become the strongest version of themselves outside and inside the classroom by meeting English language arts standards and health education standards at both the state and national levels.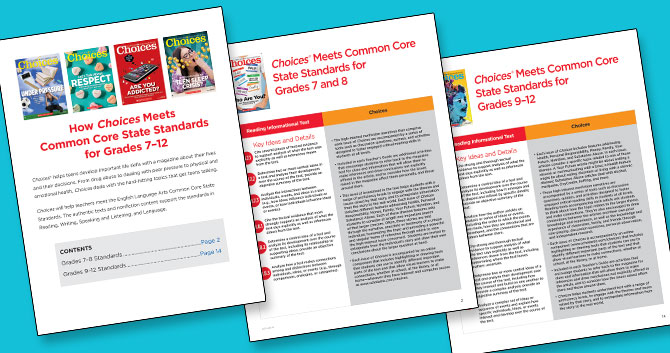 Common Core and Similar Standards (CCSS):
Click here to find an in-depth breakdown of how Choices articles and specially designed lesson plans and activities support anchor standards in Reading, Writing, Speaking and Listening, and Language. 
National Health Education Standards (NHES):
Click here for an outline of NHES standards that Choices articles, classroom lessons, and activities are designed to meet in order to help you promote your students' personal, family, and community health.
Texas Essential Knowledge and Skills (TEKS) Standards:
Click here for an in-depth breakdown of how Choices articles, stories, poems, activity sheets, quizzes, and other features support specific TEKS ELA standards for grades 6-8.